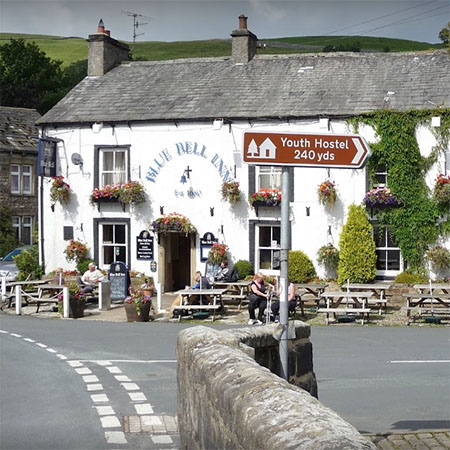 The Blue Bell Inn
Middle Lane
Kettlewell, North Yorks
BD23 5QX
01756 760230
The Blue Bell Inn, Kettlewell
A warm welcome awaits you at the Blue Bell Inn, Kettlewell's oldest and best-loved hostelry. With its log fire, excellent locally-brewed ales and substantial Yorkshire style meals, we've everything the walker looks forward to after a long day on the hills. If you want to stay a bit longer, stay in one of our seven comfortable and well appointed en-suite bedrooms and make the most of your visit.
About Us
A warm welcome awaits you at the Blue Bell Inn, Kettlewell's oldest and best-loved hostelry. With its log fire, excellent local-brewed ales and substantial Yorkshire style meals, everything the walker looks forward to after a long day on the hills and riverside paths of lovely Upper Wharfedale.
The inn has a reputation for great home-cooked food to suit all tastes, accompanied by generous portions of fresh vegetables, and our menus are changed daily to make the most of seasonal and local ingredients.
Then relax in the comfortable surroundings with a drink, a good read, a traditional pub game or quiz and entertaining conversations with the friendly hosts and genial acquaintances, old and new.
Throughout the summer you can bask all day in the Dales sunshine at our outside tables and enjoy the views, the atmosphere and local festivals with delicious food and drink.
The accommodation at the Blue Bell comprises comfortable double and twin en-suite rooms with tea making facilities, hairdryer, televisions and Wi-Fi broadband, and there's a car park for residents. After a good night's sleep, start your day with a big Blue Bell breakfast with local eggs, bacon and sausages with 'bottomless' tea and coffee.
Dogs are especially welcome, including in the rooms, and well-behaved children are catered for with a children's menu and games.
Accommodation
At the Blue Bell, we have 5 double rooms and two twins – (all ensuite) – with tea and coffee-making facilities, hair dryers and Freesat television – with further options on accommodation for larger parties.
All of our rooms are £85 per night (for two) including a full English breakfast. Special rates are on offer for single occupancy and for longer stays during the week (Sunday to Thursday nights) and outside the main seasons.
We also allow dogs in the rooms for a small extra charge and we have a locked storage area for bikes. The rooms are in a modern building at the rear of the pub and so are quiet and secure with access directly from the car park.
Food
Here at the Blue Bell Inn we offer an extensive menu throughout the day which provides a wide range of home cooked foods to suit all tastes. Wherever possible we source our produce locally and we believe you can taste the difference. We provide a warm welcome and friendly service to make your dining experience as enjoyable as possible.
As all our food is freshly cooked there may be a delay at busy periods, so we ask for your patience during these times. Unfortunately we're unable to offer table reservations (apart from for group bookings) and tables are offered on a first-come-first-served basis.
Reviews
"One nights stay"
Excellent faultless food, local pork chops with juicy fat and lambs liver stack. Fab breakfast too, with the works and chunky toast. Dogs very welcome throughout. The best pub in the village in terms of atmosphere too...
"Lovely food"
Had a lovely meal whilst staying nearby, lamb shank on mash potato was really nice and so was the meat and potato pie. Staff were very nice & friendly and a lovely warm fire to sit in front of. Would definitely recommend it...
"Highly recommend "
Dropped by for Sunday lunch today with my family and we all left very happy! The food was great (especially the homemade pies) and the portions were seriously big (I eat with the best of them and still took half of mine home!). Staff were also all very friendly and helpful. Highly recommend...
"Best food I've ever had in a pub"
Turned up after the scare crow festival for some pub grub and we were not disappointed the pies were a proper portion and I couldn't finish it.Prices were also good.Only criticism only one high chair in the whole place.The beer is also top.If you want to see a proper example of a British pub that hasn't been destroyed yet see...
"Quick Get-away to lovely village"
Used pub in past whilst staying in nearby cottage so had no hesitation in visiting again and staying in the pub. Rooms are at rear well equipped. Food is good and very plentiful....and we have big appetites! Kettlewell itself is lovely and quiet with many buildings dating back to 1600's. And yes, quiet even though has 3 pubs and a...