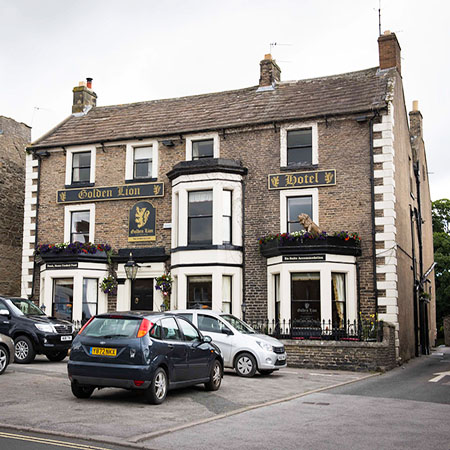 Golden Lion
Market Place
Leyburn
North Yorkshire
DL8 5AS
01969 622161
Golden Lion, Leyburn
The Golden Lion is a family run pub offering Bed and Breakfast accommodation in the heart of Leyburn in the Yorkshire Dales. A warm welcome awaits you from your hosts, Dave and Debbie. Offering a warm Dales welcome you can relax with a pint of locally sourced real ale and high quality bar food.
The restaurant offers a traditional Sunday lunch alongside a more extensive evening menu. With 14 rooms and a private function room, we're a great location for families and businesses looking for a base to explore the Yorkshire Dales.
With 14 rooms and a private function room, we're a great location for families and businesses looking for a base to explore the Yorkshire Dales. 15 miles from the A1M, Leyburn is the gateway town to Wensleydale. Middleham, renowned for it's castle (home to Richard 3rd) and it's racing stables is 2 minutes down the road.
Forbidden Corner, Tennant's auction rooms and the Wensleydale Creamery (cracking cheese Gromit) are minutes away in the car.
For group bookings please contact us directly on 01969 622161 or goldenlionhotelleyburn@yahoo.co.uk
Opening hours:
Mon - Sun: 09:00 - 23:00
Food service hours:
Mon: 12:00 - 14:30
18:00 - 20:30
Tue: Closed
Wed - Sun: 12:00 - 14:30
18:00 - 20:30
Reviews
"Excellent"
We stayed at the Golden Lion because the Bolton was full (a friend had recommended the Bolton); we are both so glad that the Bolton was full. The Golden Lion is a great place to stay, comfortable rooms and superb food. Despite having their hands full with a wedding, the Landlady and the staff were the perfect hosts and nothing was too much trouble. It's been a while since we've stayed at such a friendly place and look forward to our next visit, we had a fantastic weekend - thank you.
"Another return visit - out hotel of choce in the Dales"
We have stayed here multiple times and are never disappointed. If you are looking for the anonymity of a major chain then this won't suit you but if you are a looking for a genuinely warm and personal welcome, then this is the ideal place. The food there is excellent - we ate dinner there on all five nights of our stay and everything we ordered was high quality and plentiful. Breakfasts are wonderful.
The staff are amazing. Customer care is brilliant whether you are ordering a full meal or just getting a drink. They are so friendly and helpful. Our room, overlooking the market place, was very comfortable and we slept well after busy days. The hotel is a wonderful base for touring the Dales. We have never taken our dog to stay there but it is a very dog friendly location.
We are already planning on being back next year!!
"Stunning food and great service"
In some respects this our "local" but despite several visits for drinks I had never been for an evening meal. What a revelation! The friendly local pub does superb food! Cannot praise highly enough! In the past we have travelled to pubs/restaurants in other parts of the Dales for special events but none have surpassed the Golden Lion for quality/quantity/value for money. We will certainly be coming again.
"The best in Leyburn! "
We called for a drink after finishing our walk lovely local atmosphere nice seating area outside looking over the market square. Went back the night after for food it was exceptional our son had trio of sausages perfect, fish and chips for me (the best I have had for a long time)Hubster had the lamb burger tender and succulent, the chips were out of this world just like my Mum's !! The service was very friendly and efficient and the price was so reasonable. if you want good home cooked tasty food this is the place to go. We looked at another place lower down near the church and to be honest the prices were somewhat ott. The Golden Lion is dog friendly too.
"Passing by"
We called here for a break on the way home. A charming barman greeted us who was quite happy that we only wanted sandwiches and a coffee.
These were delivered with a smile and were delicious. Would definitely return and try a proper meal as they looked extremely good. The whole place had a lovely homely atmosphere.
"Great Sunday dinner"
Went for Sunday dinner on fathers day. The choice of pork, lamb or beef was on offer. There was seven of us and all the group said there meat was excellent. The portions are good and the food is excellent. At £9 a head you can't go wrong for a Sunday dinner. Highly recommend this pub. I would book before you go though as you will struggle to get a place when just walking in.
"Warm Welcome, Good Service and Great Food"
Great to find a dog friendly place to eat. A log fire to warm us up on a cold March day. A good menu and at a reasonable price (portion sizes quite large). Four different selections arrived in good time and the only complaint from us all - we had no chance to try the desserts!
"Fantastic lunch with a warm welcome"
We descended on the golden lion with nice of us (5 children)! Food was very very good, children's chicken nuggets where real chicken in batter. The welcome was lovely and more than accommodating helping us with another table so we could all sit together. Don t hesitate to come here if you like lovely food, a nice atmosphere with wonderful staff. We will defiantly visit here again on our next dales trip (hopefully without 5 children)!