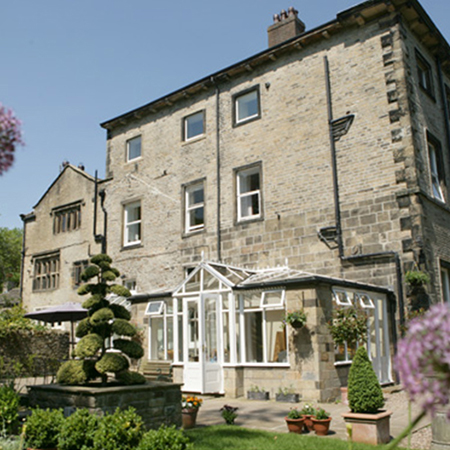 Pam & Andy Gregory
Cononley Hall Bed & Breakfast
Main St
Cononley
Nr. Skipton
BD20 8LJ
01535 633 923
Cononley Hall Bed & Breakfast, Cononley
Cononley Hall is a Grade 2 listed Georgian house, nestled in the traditional, quiet Yorkshire village of Cononley, close to the ancient town of Skipton. Pam & Andy Gregory offer a very warm welcome and an outstanding break awaits you here.
Guests are greeted with tea, coffee & Pam's homemade cake on arrival. This can be taken in our large conservatory, whilst looking out on the gardens. Whether you're a couple, a group, a family or just here on business, Cononley Hall has a choice of en-suite rooms to suit your needs, with beautiful garden views.
Quality B & B
The landscaped gardens are beautiful, both to look out on, to sit in or indeed just to have a wander around. Andy can usually be seen out there tending to his topiary and his amazing collection of hostas. Catherine & Adam look after the hens and can be seen most mornings in the field when they go out to feed them and collect the eggs for your breakfast.
Choose from a Four Poster, King-size and Twin room, all tastefully decorated with modern facilities such as a TV, WiFi, a hairdryer and central heating. Bathrobes are provided so you can maximise your comfort. If you've driven to Cononley there is ample off road parking on the gravel drive at the Hall so you don't have to worry about the car.
Bed and Breakfast
We have a choice of rooms, and offer a Full English breakfast to all of our residents. No matter whether you are a family, a couple or a business group – we can cater to your needs in a friendly and hospitable way. We have had visitors from all over the world, and they have been pleasantly surprised by the beautiful gardens and exemplary accommodation we provide here at Cononley Hall.
Location
Cononley is situated in the Aire Valley, and is in the ideal location for those wishing to explore the picturesque Yorkshire Dales or the Bronte countryside and attractions. Being a short journey from Skipton, it is handy for those who want to visit the town, with it's medieval castle, bustling market and canal boat rides.
We are well placed for day trips to nearby Leeds, Bradford, Harrogate & York – for those who wish to explore these historic cities. Cononley has it's own railway station which is on the Leeds/Bradford to Skipton line (which links to the wonderfully scenic Settle-Carlisle railway) and is only 5 minutes walk from Cononley Hall.
Reviews
"Beautiful house and garden"
This is our 2nd visit to Cononley Hall and we were not disappointed to find it as good as we remembered it. Pam waited on us hand and foot, you would not get this service in a 5 star hotel. The mattress on the 4 poster bed was so comfortable, the room was spotless, breakfast was very enjoyable, we cleared our plates. Outside the garden which is lovingly cared for by Andy is a joy to relax in, there aren't any negatives I could mention, try it you won't regret it. Thanks again Pam for looking after us so well.
"Bed and Breakfast that deserves its 5 star rating"
Have just returned from a 3 night break at Cononley Hall bed and breakfast. The hotel was spotlessly clean and well furnished. Breakfast was well cooked with plenty of choice. Pam and family were very pleasant to deal with and the garden a delight. Very convenient for Skipton and Yorkshire Dales. We hope to return when we visit the area again.
"Magnificent!"
There are just not enough superlatives to describe our wonderful experience in staying with Pam and Andy in their beautiful house. Marvellous room, wonderful food, excellent location to have as a base for exploring the Yorkshire Dales. In Pam and Andy we have found some new friends, and we will certainly return!
"Brilliant service"
Nothing was too much trouble. Pam and her family were a great advert. for Yorkshire's B & B industry. Stayed in the 4 poster room. Super bed, and lovely garden view. Excellent breakfast with fresh fruit. Stayed 3 nights to June 2nd for a wedding. Not the cheapest, but excellent standards, and worth the money!
"Most enjoyable!"
We booked here as a last minute bank holiday weekend away. Upon arrival we were greeted by Pam the owner who was lovely and friendly. After being shown our room which was clean and well presented, we sat in the garden to enjoy the sunshine and were presented with home made cakes and a pot of tea.
Our stay was lovely - Pam and the whole family are all friendly - we were able to ask for recommendations for eating out and also directions to places we were visiting. I would definitely recommend this beautiful bed and breakfast to anyone.
"Amazing"
Pam was very friendly and helpful. nothing was too much trouble.The house is spotlessly clean.,Lovely room,First rate breakfast. Coupled with a perfect location for visiting the dales & Bronte country.