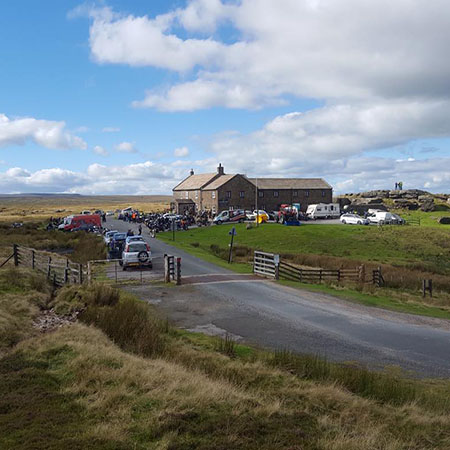 Tan Hill Inn
Reeth
Richmond
Swaledale
North Yorkshire Dales
DL11 6ED
01833 533007
Tan Hill Inn, Reeth
On a lonely hill high in the Yorkshire Dales, stands a unique and historic Inn dating back to the 17th century with its exposed beams, stone-flagged floor and welcoming fire. The World Famous Tan Hill Inn is Britain's highest public house at 1,732 feet (528m) above sea level. Situated in Swaledale, just near Keld, the highest Inn in Great Brtain is a warm meeting place know Internationally, where Walkers & Cyclists brush shoulders with bohemian like-minded individuals. Your likeley to converse with people from the Arts, Music Film & Theatre, and possibly a sprinkling of celbrity, as well as sports minded people who have made their way up to the "Top Pub " All set against the back-drop of the most stunning scenery to be found in the UK. Your all very welcome at The World Famous Tan Hill Inn.
Tan Hill Inn Accommodation
A beautiful Historic Inn quite like no other in the Yorkshire Dales. The Pennine Way on your doorstep….Everything you need to Relax & Unwind.
We are pleased to offer classically decorated bedrooms with comfortable beds and modern en-suite facilities. Each room also has a television (freeview) and tea / coffee making facilities. All non-smoking. Free Wi-fi is available. Actually we say " nearly free " as we ask for a small donation to our monthly charity.
We're very Dog friendly so bring the pooch and have a lovely walk after a great meal, we just ask that you keep your owners on a lead.! Hairdryers are available. We serve Full English Breakfast which is served from 8.00am-9.00am, However, do let us know if you would like to have breakfast earlier. Come and stay in the heart of the Dales in beautiful Swaledale.
Campers please order one night in advance at the bar if you would like breakfast in the morning, we charge Full English Breakfast at £7.99.
Pub Meals at the Tan Hill Inn
Come & Enjoy a Wonderful Pub Meal at the Highest Inn in Britain. Meals served from 12pm-3pm & 6.30pm-9pm
We serve great but simple food in fantastic cordial surroundings. Our menu combines hearty dishes that cater for everyone, with all-year-round favourites. An ideal excuse to share time with friends, or make new ones in the World Famous Tan Hill Inn against the back-drop of the wonderful Swaledale landscape near Keld.
Events at the Tan Hill Inn
Events at the World Famous Tan Hill Inn
Why not arrange your visit to the Yorkshire Dales National Park around one of our world-renown events? There's great food & drink, music and a range of fun and quirky events. The Tan Hill Inn events are in the heart of Swaledale, near Keld – it's not just the fact we're Britain's highest Inn that makes our events special it's the ambiance of our beautiful Inn steeped in history.
Check out all the Tan Hill Inn Events on our website.
Every Saturday night we have live music, be kept up-to-date by becoming a Tan Hill Inn Fan, subscribe to our free newsletter via our website.