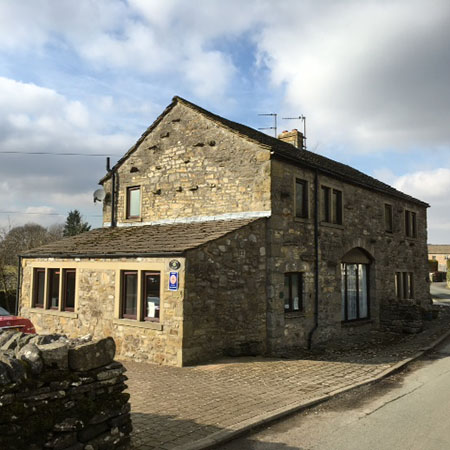 Sunnyside Cottage
Moody Sty Lane
Grassington
Skipton
BD23 5BB
07720 294391
Sunnyside Cottage, Grassington
A beautiful barn conversion for those sunny days and cosy nights.A really great holiday rental property in Grassington village
Sunnyside Cottage is a unique 4 Star Barn conversion .It is situated along a quiet lane within a couple of minutes walk of Grassington Main Street and the charming Village Square .It overlooks a meadow and has a lovely south facing garden and off road parking within the grounds for 2 cars.
This 4 Star accommodation has a well stocked garden with lawn and fruit trees. There is a sunny sheltered patio area where visitors can sit and enjoy a well earned drink after a long walk on the Fells! Sunnyside Cottage has parking within the grounds for 2 cars. The garage can be used as a bike store if required.
The interior is spacious, light and airy with all the home from home comforts you would expect for this standard of accommodation. Sunnyside Cottage is owner managed and visitors can contact her by phone directly with any questions So call Carolyn 01756 730391 or 07720294391. No extra booking fees or commission rates.
Explore the Yorkshire Dales and stay in Sunnyside cottage Grassington. Open all year round.
About the area
Grassington is noted as one of the best loved villages in the Yorkshire Dales and is very popular for walkers, anglers, cyclists, rock climbers, pot holers, golfers and those just wanting a day out in the countryside. There are plenty of activities, restaurants and pubs to both entertain and feed the weary traveller.
Cosy Cottages in Grassington village offers you Sunnyside Cottage which is a beautiful Barn conversion located overlooking a meadow just minutes away from Grassingtons central village square. Parking for 2/3 cars is available within the grounds of Sunnyside Cottage.
The views across open countryside are unspoilt and typify the beauty of the Yorkshire Dales. The holiday accommodation is a three bedroom barn conversion sleeping up to 2/4 or 4/6 people. Many couples return each year to Sunnyside Cottage where they enjoy the home from home comforts of this 4 star property.
Well behaved pets are allowed and guests are requested not to leave them alone during the day. I look forward to welcoming you to Sunnyside Cottage Grassington and the wonderful scenery in Wharfedale.
Reviews
"A lovely cosy cottage, with all you could want for a stay in Grassington, quietly located, but so near to the square. It has a really welcoming feel about it, and everything you need, a proper real fire, private garden, fabulous old range cooker, and more. The only problem is leaving it."
Mrs Grace
"We stay every December for the Dickensian weekends and find the cottage extremely warm and comfortable ideal situation."
Mrs P Maddock
"An excellent spacious cottage set on the edge of the village- well furnished and contains everything to assist an enjoyable and relaxing holiday."
Mr and Mrs Dance
"A warm comfortable cottage, just a short stroll from the village, its so easy to relax here, far too easy! Well furnished, and with the major advantage of its own parking, and a lovely sunny garden. Lots to do from this cottage, and its so nice to come back to after a hike, or just passing time in Grassington. Definitely one to return to, again and again, we do!"
Amanda