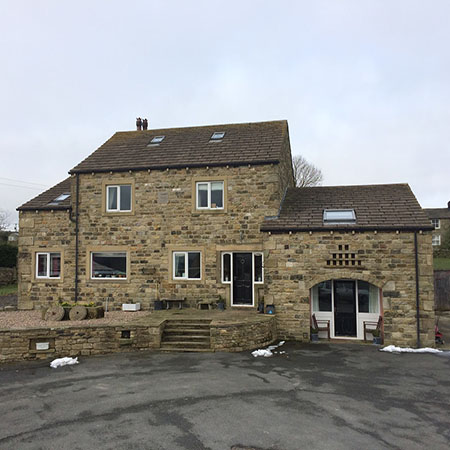 Pickersgill Manor Farm
Low Lane
Silsden Moor
West Yorkshire
United Kingdom
BD20 9JH
01535 655228
Pickersgill Manor Farm, Silsden
The Preston family offer a warm welcome to guests visiting our family run farm and have created the perfect place to get away and relax while enjoying a break or escaping from the city whilst on business. Our guests enjoy the wonderful location for exploring the local area and the breathtaking views. We have three rooms each generous in size, comfortably furnished and lots of little extras to make your stay as enjoyable as possible.
Walkers will find scenery and challenge to suit everybody whether you prefer a gentle stroll at Bolton Abbey, a long walk over the limestone uplands of Malham, or you could simply park the car and set off straight from the Farm.
Our Rooms
Our rooms are super king-sized or twins. We have White Company bedding, feather duvets. Freeview TV, digital radio and a comfy sofa. Alarm clocks and all the bits that are sometimes forgotten – hairdryer, shoe cleaners, hot water bottle etc. Lots of local information and maps. A very well stocked hospitality tray with homemade goodies and a small fridge.
Each bathroom has fluffy white towels, Neal's Yard and White Company toiletries. We have a guest lounge available on request. Breakfast is served around the farmhouse table in the kitchen.
Airedale
Airedale is a ground floor ensuite room. It has fabulous views across to Windygate Nick and down the Airedale valley. An exceptionally large room with plenty of space to relax.
Wharfedale
Wharfedale is a first floor ensuite room. It has fabulous views towards to Beamsley Beacon and scross to Ilkley and the Wharfe valley. A large room with plenty of space to relax.
Wensleydale
Wensleydale is a first floor ensuite room. It has fabulous views towards Upper Wharfedale. A large room with plenty of space, and beautiful evening sunshine.
Food at Pickersgill
A full English breakfast is served around the big table in the farmhouse kitchen with all possible combinations and a few treats that we don't always have time for at home.
We are food producers, all be it at the very start of the line and for a product to taste good a lot of time, care and pride has to go in, the result of all of that has to be enjoyment.
Food in the evening
There is an excellent pub 3 miles from us The Slater's Arms at Bradley or Stephano's Italian is 1.5 miles down the hill. It is advisable to book.
With a little notice I can provide
Yorkshire Farmhouse Platter
If you are feeling travel weary, a farmhouse platter can be left in your mini fridge. Home cooked ham, locally made pork pie, homemade chutney, Wensleydale cheese, garnish, bread roll and butter and non alcoholic drink. £10.00 per person.
Homemade Soup and Roll
After a long day travelling if all you need is snack to put you on until breakfast, homemade soup and a roll served on a tray in your room. £4.50 per person
Packed lunches are available, sandwich and water £3.50 per person. Sandwich, fruit, cake, baked savoury and a drink £6.50 per person.
We are not licensed but please bring along your favourite tipple, the rooms have mini fridges, glasses, bottle opener, etc.