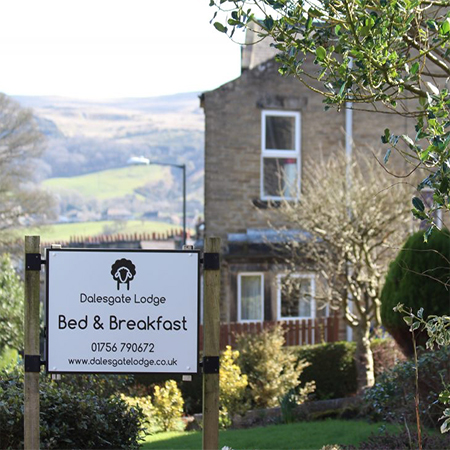 Dalesgate Lodge
69 Gargrave Road
Skipton
BD23 1QN
01756 790 672
Dalesgate Lodge, Skipton
Built in 1885 Dalesgate Lodge is an imposing Victorian house with 5 comfortable guest rooms. Situated only a short stroll from the centre of Skipton Dalesgate Lodge is close to all amenities that this historic market town has to offer. We welcome all visitors, walkers and cyclists alike (we are able to securely store bikes with advance notice). Unfortunately we cannot accommodate dogs or other pets and we are fully non-smoking establishment.
BOOK A STAY AT DALESGATE LODGE
All double and twin rooms have ensuite shower facilities and the single room has its own private bathroom located next to the bedroom.
Prices start at £80 per room for the doubles/twins and £60 per room for the single. Single occupation in a double or twin room is available.
Over the summer months and for special events we operate a 2 night minimum stay over the weekends.
BREAKFAST MENU
We offer fresh fruit, a choice of cereals and local preserves together with Tea, Coffee and fresh fruit juices.
If you have any dietary requirements or special requests, please let us know and we will do our best to accommodate your preferences.
Full English Breakfast
Sutcliffe's smoked rindless back bacon, Farmhouse Fare pork sausages, Farmhouse Fare black pudding, free-range egg (fried, scrambled or poached), oven-roasted vine tomatoes, sautéed button mushrooms, baked beans, choice of toast
Scrambled Eggs with Smoked Salmon
Free-range scrambled eggs with oak-smoked salmon and your choice of toast
Eggs Benedict
Toasted English muffin, free-range poached eggs, sliced Yorkshire ham, home-made hollandaise sauce
Porridge
A hearty and healthy alternative
VISITING THE MARKET TOWN OF SKIPTON
Skipton holds its famous street market 4 days a week (Monday, Wednesday, Friday and Saturday) and there is also the Leeds-Liverpool canal where you can enjoy daily boat trips, not to mention the abundance of shops, cafes and restaurants in the town.
For those who want to explore further afield, Dalesgate Lodge is ideally situated in the "Gateway to the Dales" being the ideal base for visiting the Yorkshire Dales.
For all general enquiries or to make a booking, you can contact us via the following methods:
DALESGATE LODGE
69 Gargrave Road, Skipton
BD23 1QN
Telephone: 01756 790 672
Mobile: 07769 187275
Email: dalesgatelodge@hotmail.com
CUSTOMER COMMENTS
"Stayed one night at the Dalesgate Lodge last week-end. Dan and Emma were very excellent hosts and most helpful, we had 2 rooms which were modern and superb, both warm and comfortable. Breakfast was well presented and most enjoyable served in the breakfast room. We were allowed to leave the car on their car park to take the short walk to the Christmas Markets in Skipton. Can't fault the Dalesgate and would certainly stay again."
"I can not praise Dan & Emma enough for all they did to make our stay as comfortable as possible for me, (I have huge problems with smells they make me so ill) they went above and beyond to remove as many aromas as possible even re washing the bedding and letting us have breakfast in their own private quarters. Thankyou so much."
"We stayed for one night and could have easily stayed longer, great location for Skipton town centre which is lovely to look around, has some great cafe's and shops. Skipton Castle is a must visit too. The B&B is really well kept, lovely and clean. The room was a good size and bed very comfortable, good size en-suite too. The owners are in the process of re-decorating which will be great when its done, this didn't have an impact on our stay. The English breakfast was fantastic, products are locally sourced and it showed in the quality of the food, next time I'll be going for eggs benedict. Thank you both for a really pleasant nights stay. We will be returning."
"What a beautiful overnight stay for my mums Birthday and what a special gem we have found. We arrived from a day in Leeds at 7pm and Daniel could not have welcomed us better. Our room was a twin Room 4, recently decorated beautifully and to our taste. Daniel recommended a lovely place to eat before us settling down for the night. Beautiful location ten minutes walk from Skipton centre. Breakfast was stunning and nothing was to much trouble. We can highly recommend Dalesgate Lodge and just wish we could have stayed longer. Well done to Daniel, Emma and the boys!!!!"
"A lovely place to stay. Recently beautifully refurbished, it was a delight to stay here and made our short stay in Skipton very enjoyable and relaxing. Daniel and Emma were very friendly and helpful. The breakfast was delicious and locally sourced. It is located a short walk from the town. We would thoroughly recommend staying here."