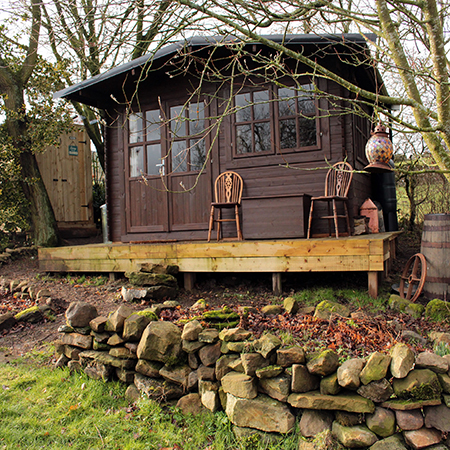 Crackpot Cottage
Crackpot
Low Row
Richmond
DL11 6NW
01748 886191
Crackpot Cottage Log Cabin, Richmond
Set in a small hamlet in the heart of Swaledale, Crackpot Cottage is the ideal place to experience the beautiful Yorkshire Dales. We are a family-run smallholding. We grow our own fruit and vegetables and our hens provide us with fresh eggs daily. We are just 20 minutes from the Dales Bike Centre and adjacent to The Swale Trail, the Dales cycle routes and the Pennine Way.
Our cosy log cabin is furnished simply. It includes: a comfy double bed, a small table and 2 chairs, 1 eco-friendly bio-stove for warmth and 2 bed side tables.
Duvet, pillows, bed linen and towels are provided.
A tank of fresh drinking water from our well is provided daily.
Breakfast is included and is served in our dining room in the cottage from 8.00am to 9.00am
There is no electricity or wifi in the cabin (wifi is available in the dining room at breakfast time). Lighting is provided by way of 4 battery operated storm lanterns. We provide rechargeable batteries.
There are no cooking facilities in the cabin but there is a fire pit and barbeque in the picnic area adjacent to the cabin. We provide skillets, Dutch oven, campfire single cast iron toaster, and kettle for you to make full use of if you wish to cook on the campfire. We also provide crockery and cutlery.
1 bag of logs and kindling is included in the price. Additional bags of logs are for sale for £5.00 and bags of kindling for £2.50 each.
The bio-fire stove uses ethanol fuel, which gives 2.5 hours of heat at full blast. We fill the stove once a day at no extra cost. You can request extra refills for £2.50 each. For safety reasons we refill the stove ourselves when and if requested.
Next to the cabin there is a washing up area, with a bowl and drainer. Non-potable water can be taken from the water butt at the back of the cabin. We also provide eco-friendly washing up liquid. No other products are to be used.
There are recycling boxes behind the cabin, which we encourage you to use. There is also a bin for any non-recyclable rubbish.
The compost toilet and the basic shower are opposite the washing up area, surrounded by trees. The compost toilet features a urine diverter; therefore it is essential that both men and women sit to pee! Only toilet roll can be discarded in the toilet. There is a bin for any other waste.
The shower next to the toilet is very basic. There is no hot water and the battery operated head draws water from a tank that we refill daily. We provide eco-friendly shower gel and shampoo. No other products are to be used.