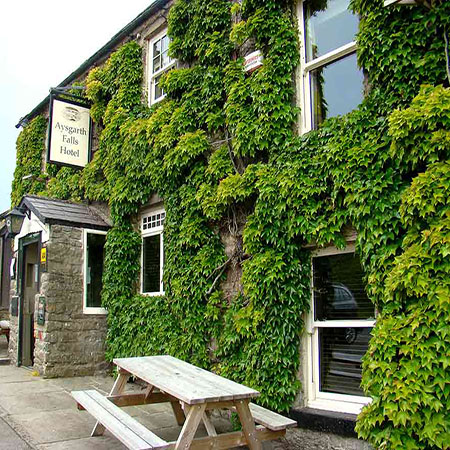 Aysgarth Falls Hotel
Aysgarth
Leyburn
North Yorkshire
DL8 3SR
01969 663775
Aysgarth Falls Hotel, Aysgarth
Aysgarth Falls Hotel is ideally placed for staying whilst exploring the Yorkshire Dales, and with Aysgarth Falls at the bottom of our land, you couldn't be closer to one of the most stunning sights in the country. Thirteen gorgeous and comfortably styled en-suite rooms await you here at the Aysgarth Falls Hotel on the edge of the beautiful Yorkshire Dales village of Aysgarth. All are contemporary and light, but most of all comfy and relaxing, so you'll quickly feel at home.
Stay
We have rooms with twin beds, king size beds and family/rooms that sleep three and four. We hope there'll be a room here to suit you. For residents use only, we have a drying room, suitable for drying off your waterproofs and boots, should you be unlucky enough to catch a shower or two…
Please be aware that our main building bedrooms are on the first and second floor, and we do not have a lift.
We don't take dogs (or any other pets) in our bedrooms in the main building. However, we now have two comfy pet friendly rooms next door - just 25 meters away.
Camping
How could camping in Wensleydale be better than here at Aysgarth Falls Hotel? In 2014, we've become a very quiet, adults only site. Our camping facilities are very basic, but clean and cute… in fact there are two toilets and two showers built inside little sheds. You will have easy access to our pub with great beers and wines and lovely food
The Pub
Everybody is welcome here! You'll find a relaxed place where you can quench your thirst after a day of exploring the beautiful Dales.
We also serve great food, and our usual food service times are 12 – 2.30pm (until 3pm on Sundays) and 6 – 8.45pm every day. To ensure that you can get a table, it is best to book, as during busy periods, we unfortunately sometimes have to turn people away. Of course you can always turn up to see if you prefer...
Eat
As well as our traditional pub bar, we have lots of room for eating. You can even book our private dining room, for small groups of 10 to 14. We also have outdoor terraces which are real suntraps.
Our Chefs are skilled and eager to cook for you, and have produced menus which will appeal to all tastes.
Whilst producing great meat and fish dishes, our Chefs are able to produce the most delicious vegetarian and vegan food around, with real veggie choice. You will see that there is something tasty for everybody, and with a menu that is constantly evolving, you'll always be able to find something new to eat here! If you have any dietary requirements, please tell us, we'll do what we can to make you something that you'll really enjoy.
Quality, locally sourced and reasonably priced food is what our kitchen is all about. We are proud to have been assessed and awarded one rosette by the AA.
Please book a table, as we often need to turn people away, and we'd hate you to be disappointed...