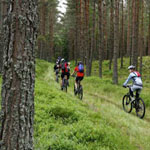 Vern Overton Cycling
Low Lane
Darley
Pateley Bridge
HG3 2QN
01423 781406
Vern Overton Cycling, Pateley Bridge
Vern Overton Cycling is based in the popular Nidderdale Valley; an area of outstanding natural beauty. There are few other places that offer such beautiful and tranquil surroundings in which to simply relax and ride a bike. With a range of high quality road bikes, versatile hybrid machines and hard-tail mountain-bikes available for hire. We are happy to lead organised groups of riders such as a families or friends and even individuals on a one-to-one basis. We can offer expert knowledge of local roads and the many off-road tracks and trails such as the newly constructed mountain-bike track built by Yorkshire Water, close to Fewston Reservoir. Should your bike fail to perform as you would like or is in need of a thorough service; Vern Overton Cycling are at hand with a fully qualified road and MTB mechanic to quickly get you back on the road.
Bike Hire
Vern Overton Cycling Bike hire has a range of high quality road bikes, hybrid machines and mountain-bikes all fitted with the latest Shimano components. We hold a small number of mountain-bikes suitable for younger riders (above 140 cm) who may join other family members to make your experience a truly family affair.
All of our bikes are serviced and maintained to the highest industry standards and no bike ever leaves our workshop without being totally safe and thoroughly roadworthy. We are happy to deliver bikes free of charge within a 5 mile radius of Darley. Areas further afield will incur a small charge.
Ride Leader
Are you on holiday in Yorkshire and don't know the area around Harrogate and the surrounding countryside? Would you value having a partner to cycle with or someone to plan your route and lead your group of riders?
Budding off-roader, sportive cyclist or simply wishing to enjoy the Nidderdale countryside from the comfort of your saddle; we can tailor a route specifically to suit your experience, level of fitness and personal wishes. You may prefer to ride with friends, family members, or a just several like minded people.
Whichever type of riding you choose, we have the newly constructed Fewston mountain-bike trail on our doorstep as well as some of the countries premier roads that were chosen for the 2014 Tour de France. Rest assured that Vern Overton Cycling will tailor your ride to suit your wishes entirely
Bike Maintenance Service
A bike just like any other machine with moving parts. In order for it to work efficiently it needs to be cared for and maintained on a regular basis. At Vern Overton Cycling we have a fully qualified road and mountain-bike mechanic trained to the highest industry standard for bike maintenance service (CYTECH 3).
You can be assured that your bike will be looked after when you have it serviced with us. The type of bike you ride and your usage will dictate the frequency of servicing, although an annual check over and service is best done at least annually. We recommend that before every ride you give your bike a visual check-over to make sure that there are no loose parts, frayed cables, splits in tyres or obstructions in the wheels.
If you are in any doubt or you feel the bike could do with a more stringent inspection and treatment, give us a call. Feel free to discuss your bike and what type of repair or service that your bike would benefit from.
For ease and simplicity there are 3 types of services available, but we will be happy to discuss an appropriate bespoke package aimed at your own situation.
If you have any questions about our services, we're always happy to help Tel: 07595 460465
Drop us a mail and we'll get back you as soon as we can. vern@voc.bike