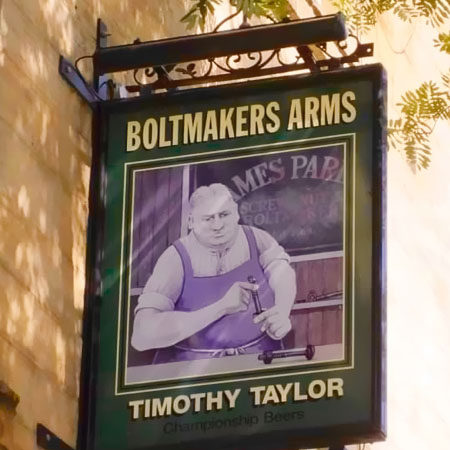 117 East Parade
Keighley
West Yorkshire
BD21 5HX
01535 661936
The Boltmakers Arms, Keighley
The Boltmakers Arms is renowned for serving the best ales that Keighley has to offer, including the award-winning Timothy Taylor bitter, the 'Boltmaker'. The Timothy Taylor brewery was established in 1858 and is the last independent brewery of its type in West Yorkshire.
Constantly changing guest beers, we provide something new and exciting to try each time you visit us. We are the perfect Keighley pub to enjoy a quiet drink with friends or to take in live music and quiz nights.
Golden Oldies every last sunday of the month with the one and only golden oldie himself Phil Booth!
Don't just take our word for it - we have been voted 'Keighley's Pub of the Season' by CAMRA (Campaign for Real Ale) numerous times! Come and see what all the fuss is about.
The Boltmakers Arms is treasured as an integral part of the community in Keighley, and is popular with locals and visitors alike.
In addition to our cask ales we also boast a range of malt whiskies andtraditional ciders.
Come in from the cold and relax by our crackling fire in winter, or make the most of a warm summer night in our beer garden.
Live music and quiz nights in Keighley
We host many fun events at the Boltmakers Arms, including:
Quiz night prizes to be won as well as weekly jackpot money on Tuesdays
Live music from local and up-and-coming bands on Wednesdays
Golden Oldies night on the last Sunday of every month
Visit the historic town of Keighley
The Boltmakers Arms has been at the heart of the picturesque town of Keighley for many years. As the smallest pub in Keighley, we are proud to sell prize-winning ales from Timothy Taylor as well as many other exceptional guest ales.
Keighley boasts several popular sights and activities. From the iconic railway station, from which you can take a ride through Bronte Country and soak up the idyllic scenery, to the Timothy Taylor Brewery, Keighley is full of interesting history.
Timothy Taylor Brewery
Timothy Taylor began brewing beers in Cook Lane in 1858. He built a bigger brewery at Knowle Spring in Keighley in 1863, where it has remained ever since in the Taylor family name.
The unique taste of Timothy Taylor ale is achieved by a passion for the brewing process combined with usage of only the finest natural ingredients. This formula has allowed the brewery to survive as the last independent brewery of its type in West Yorkshire. Which they intend to do for years to come.